Cadamier Network Security Corporation, Denver Colorado
At the center of every great network, is a great network switch. Switching is the backbone of every network, and without a good switching system that's setup correctly, your network could experience serious problems.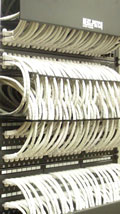 If you are just plugging things into your network, then you know well that wire management becomes a problem. A simple installation now can come back to haunt you over the years as tracking wires down becomes a painful reminder that it could have been built better.
Cadamier recommends, sells and installs switching solutions from HP, Dell, Cisco & 3COM. Cadamier recommends that all customers use management switching solutions so that they can watch their network more closely and diagnose problems faster.
If your core network is giving you troubles, then have Cadamier take a look at it. We can help recommend an optimal switching solution that can both fit your needs and your budget.